Costume Guide of The Robert Taylor Longmire Sheriff Walt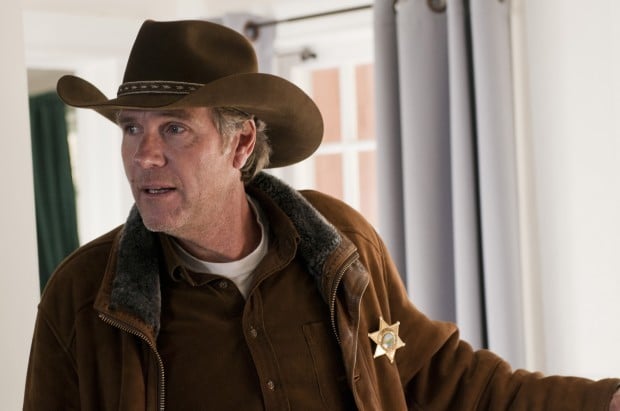 Would you like to wear a costume that can make you feel as you are on the dry dusty plains of Wyoming? Then you can have Longmire Costume which has been taken from the TV series Longmire. The Walt Longmire is the bravest character, portrayed by the actor Robert Taylor who is the dedicated and unflappable sheriff of Absaroka County, Wyoming. He faces the murder of his loving wife but hides his grief under his brave face and handles the politics of working with the Cheyenne Reservation. If you want to wear the signature outfits of Walt Longmire, you just need to follow our below-given guide.
First and foremost, you will need to shop for this classic brown coat to complete your Longmire Costume. The coat is handsomely designed to give you a handsome look, to get a dapper look you can wear this snappy coat under other shirts at special events. This coat will keep you warm in winter. The Longmire Coat is projected by suede leather, viscose lining inside, shirt style collar, buttoned down closure, full-length sleeves with open hem cuffs, waist pockets.
If you want the exact look of Walt Longmire, you have to wear this blue denim shirt under your Longmire Coat. This exceptional shirt has a lot of attraction and can make a good pair with other jeans and jackets in your wardrobe. This shirt will smarten your personality and give you an admirable appearance. The Longmire Shirt is projected by cotton, shirt style collar, buttoned down closure, chest flapped pockets, full-length sleeves with button-down cuffs.
These simple snappy jeans will increase the splendor of your outfits and complete your Walt Longmire Costume. These exceedingly attractive jeans can be worn with other shirts or t-shirts, you will feel comfortable as long as you wear them. The jeans are made up of cotton that gives a long-lasting feature with style.
At this point, we present you this brown cowboy hat to wear with Longmire Costume and own an exact look of your character. The cowboy hat is woolen that comforts you how long you wear it and make a perfect pair with other apparel too. It will be your ideal choice to wear this hat at the beach while hiking and traveling.
Brown Leather Belt with Silver Buckle
This belt is a wonderful piece of Longmire Costume, this leather-made belt will enhance the beauty of your blue jeans or you can also wear this belt with other pants. The belt has a simple and nice buckle closure that gives an attractive look.
We suggest you these ultra-stylish boots to wear with Longmire Costume, these boots will not only raise the standard of your way of wearing boots but also give you a snappy look if you wear them with other outfits. These boots will provide you with comfortable steps and make you every journey memorable. You can wear these boots at work, traveling, hiking, trips. The Longmire Boots are projected by leather, rubber sole, lace-up closure, cushion inside,military-style.
Lastly, we present you Sheriff's Badge to attach to your Longmire Coat and get an exact look at the character, you can attach this batch on other jackets or coats. All the above items are made up of premium quality. Each item is a perfect replica of one worn by the actor Robert Taylor being Walt Longmire in the drama series Longmire. If you shop all these items from our store, you can shop them at very economical prices. Now, what are you waiting for! Just make a quick visit to our store where you can get high-quality, fine stitching, best projection, and enjoy royal treatment for our valuable customers. Be hurry and grab your Walt Longmire Costume.